Introduction
No end of schemes were there of old
By which love's tender charms were told;
And still may fairies intervene
To bless the fates of Halloween.

-- from "Halloween", a poem from Harper's Weekly, Vol. 39, No. 2033, December 7, 1895, p. 1069.
Halloween is one of the most popular holidays of the year in the United States and is also celebrated in many other countries. The origins of Halloween are in the British Isles and northern Europe, but Halloween as it is typically celebrated today is an American creation.
Although Halloween is traditionally considered a magical time of year, when witches cast their spells and the dead return to the earth to visit their loved ones, the real magic of the modern Halloween is in the power of imagination. Halloween is a time when you can be anything you want, if only for just one night.
Many people think of it as a holiday mainly for children who are young enough to go trick-or-treating, but in the past, Halloween has been more for adults. It has been considered a time of romance and dreaming about the future as well as a time for costumes and treats and scary stories. In recent years, Halloween has once again become more popular among adults.
What you will find here is a mixture of history and tradition, party and costume suggestions, and ideas for both children and adults. I have a special interest in history, so much of the focus of this site is on Halloween history and tradition. I've included some modern recipes and games, but in general, most of the ideas here are based on the idea of traditional Halloween celebrations. The sections on superstitions and Halloween tricks are mostly for historical interest, although there are a few harmless pranks included that might do well for a laugh at a Halloween party. Also, I haven't included any tips for Halloween decorations because those, along with various modern recipes, are the most common tips you can find in magazines and other sites about Halloween parties. I have more of an interest in activities, which is why I put together the sections on games, movies, and music.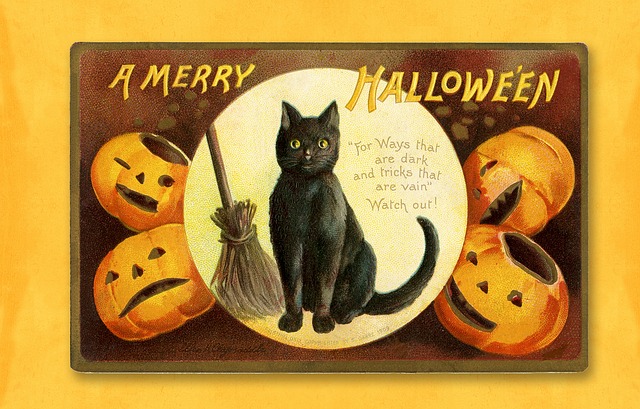 While we're talking about scary things, there are some things that you should understand about web security to protect yourself from some unpleasant tricks.
Halloween 2022
Over the last couple of years, the coronavirus pandemic has changed the way that people celebrate Halloween. In 2020, people either stayed home from trick-or-treating and parties or found ways to give treats to trick-or-treaters without interacting with them directly. Things eased up again last Halloween (at least in some areas), but there are still lingering concerns. For the last couple of years, I didn't have my usual Halloween birthday party. My friends and I did an online escape room instead. I might do the same this year. I'm still thinking about it. Personally, I like some aspects of having a quiet Halloween at home because I get to read the books I want to read (I just added the Books page to the site this year), watch the movies I want to watch, and make the homemade treats I really like. With more people vaccinated and the booster for the newest coronavirus variants available, celebrating out in public is probably safer now than it has been for the last couple of years, but depending on your circumstances, there may be reasons why you might still want to be cautious. For the benefit of people still deciding what to do, I thought that I'd take some time to talk about possible options.
Halloween Parties and Trick-or-Treating
Getting together with others probably isn't too bad if they're all vaccinated. Have fun but also be realistic about your situation and the feelings of family and friends, and make accommodations where necessary. If people are uncomfortable with the situation, they're not going to have a good time, so keep parties and activities within the comfort levels of the people involved. Halloween is traditionally a time for suspending some of the usual rules and letting loose, but just don't do anything on October 31st that you might regret in November. If you're not feeling well, just stay home. Pass around candy, not viruses.
For those who are still being cautious, there is a very useful article from Porch, a site which focuses mainly on home improvement, that recommends At-Home Ideas To Have A Fun and Safe Halloween This Year! It includes both indoor and outdoor ideas and some traditional forms of entertainment, like making your own homemade treats. For those who are vaccinated or have a safe circle of friends and would like to host an in-person party, I also recommend How to Prepare Your Home for a Halloween Party, which offers fun and practical tips for preparing for the big night, beginning with creating a party budget and sending invitations and ranging to indoor and outdoor decorations, costume concepts, party food, and games and activities for guests of all ages.
There are some ways to have fun with friends remotely as well as in person. If you are also a big Internet geek like I am, you could try playing a game with your friends online. Steam offers a remote play option. They have some spooky games that are good for Halloween, including some multiplayer games. My friends like the ones in the Jackbox series. One of those collections has a game where you try to survive being captured by a serial killer by answering trivia questions. It isn't specifically Halloween, but it has the right mood. I don't recommend it for kids.
It's also possible to watch movies with your friends online in real time, and I have lists of movie suggestions.
There are also plenty of ways to have fun with people in public. You might see if your area will be having a costume parade. You can see if there are any local festivals, haunted houses, or corn mazes in your area. You and your friends might even consider a kind of photo scavenger hunt, where you can split up and take Halloween-themed pictures of the best displays or costumes you see around town. Again, make sure you know what your community is planning regarding trick-or-treating and follow the local rules.
I'm also very in favor of putting up decorations and wearing costumes, even if you're not trick-or-treating or having a party. Actually, I think there's a lot of potential for putting on a performance in your front yard, particularly if you live in one of the neighborhoods that will be having a costume parade. You can get elaborate with your yard decorations, setting up a tableau for the benefit of people who will be walking or driving by, and enlist family members or friends to help you act out a Halloween scene. Some areas might be having drive-around parades, or you could drive around your area yourself and look at decorations.
Halloween at Home
I've already said that this is what I'm planning on doing. I might watch a movie with friends through Netflix, but even if I don't, I still have my own movie collection, and I have other Halloween activities in mind.
Movies and Videos
As we approach Halloween this year, I'll be adding some new recommendations to my Halloween movies and music pages, and I particularly like to recommend nostalgic childhood ones, even for adults, because I think the good feelings that nostalgia brings help in stressful times. YouTuber Jenny Nicholson has a video where she describes her favorite Halloween children's media, and I highly recommend putting together your own list and getting into the mildly spooky mood of Halloweens past. YouTube in general is a good place to find ghost stories, accounts of ghost hunting, descriptions of haunted places, or stories about weird happenings and unsolved crimes that would be appropriate for creating a Halloween mood.
Food
Halloween is also a time for treats, so you can make good things to eat while watching some of these shows and/or things to deliver to friends' houses to surprise them. Make some of your old favorites or try something new! When you go trick-or-treating these days, you only get pre-packaged candy, mostly in the same major brands, but when you make things yourself, you can enjoy some old-time favorites that people don't generally hand out anymore, like cookies, donuts, popcorn balls, or candy apples. I'm planning to add more recipes to my site, too.
Scary Stories
Of course, movies and snacks aren't your only options. Halloween is also a time for stories. You can spend a quiet evening at home that's ... too quiet. Tell stories with friends, roommates, or relatives, and maybe even have your own scary story contest, like the one where Mary Shelley invented the character of Frankenstein (this video, from a series which focuses on clothing that people in the past wore, talks about the life of Mary Shelley and her famous creation). You could even write your own Halloween stories and maybe post them online through FanFiction.net, FictionPress, Quotev, Wattpad, Inkitt, or other archives for fan fiction or original fiction. Inkitt also holds scary story contests at this time of year that you can enter!
If you live alone or if the people you know aren't into ghost stories and you don't feel like composing a story of your own, you can always read some yourself online (like Creepypasta - I like Jenny Nicholson videos, and she has one where she explains creepypasta) or in your favorite books. I've been thinking about adding a page of books to the site, although I've already started a list of Halloween-themed books for kids (which can also be nostalgic ones for adults) on my children's book blog. While reading or writing stories, you can also listen to Halloween-themed music or ambient sounds to set an appropriately creepy mood.
Superstitions
However, maybe you're looking for something a little more unusual to do on Halloween night. According to Folklore, many things are possible on Halloween night that aren't possible at any other time of the year, especially the ability to foretell the future. I'm not sure how much I really believe in fortune telling, but if you're looking for something weird and unusual to do, you could put some of the old traditional methods to the test. (I imagine that it might go something like Jenny Nicholson's video about trying magic spells, but even if nothing happens, it can still be amusing to try, especially if you record your efforts to share them with others!)
One strange old tradition that would be fairly easy to do in the privacy of your home would be the "dumb supper" - "dumb" as in "mute" or "unable to speak", not stupid, although it is kind of a goofy ritual. Many Halloween rituals center around divination superstitions, and the dumb supper is one of the more elaborate superstitions that can be carried out by a group of people. It was particularly popular among young women wanting to see hints of their future husbands. The idea is to prepare and eat a meal in complete silence (no talking) at midnight and to do everything as backward as possible - set the table with everything reversed from the way it usually is, serve dessert first, turn the chairs the wrong way around, etc. However, it's important to leave empty spaces at the table because, exactly at midnight, friendly spirits will join the dinner. These spirits might be visions of the young women's future husbands, or even the future husbands themselves, showing up in person. (I imagine that would be easily accomplished if a girl tells her boyfriend that she's going to do this ritual ahead of time, wink, wink. Apparently, in the past, friends, neighbors, and relatives would try to arrange pranks or surprise guests for people they knew were performing a dumb supper.) However, this ritual could have spookier or more sinister implications. If the participants see a coffin instead of a person, it's an omen of death for one of them. Sometimes, people use the dumb supper as a more solemn remembrance for the dead, with empty spaces at the table representing loved ones they have lost, sometimes in the hope that these souls will return to join them briefly once more for the meal. This tradition is particularly popular with modern pagans and witches. Of course, when you set a place for wandering spirits at your table, who can say might show up? The blog The Ghost in My Machine offers instructions for holding a dumb supper but notes that people who try this do so at their own risk because you never know who might come to dinner. Personally, I just find the idea of a backwards dinner kind of amusing. Remember, if anyone at the dinner speaks, no spirits will show up. So, if you don't want supernatural visitors, keep a lively conversation going!
Spooky History
There is quite a lot of history surrounding Halloween that can make for fun and educational reading and watching, and there are also many creepy aspects of history that aren't tied directly to Halloween but would definitely be atmospheric for Halloween. In a way, some of these are even better than some of the usual ghost stories and Internet creepypasta because they're true. Did you know that there has often been a surge in spiritualism after wars, like the Civil War and World War I? The biographies of some of the people who were involved in spiritualism are fascinating, from the Fox Sisters to Madame Blavatsky, and the debunkers, like the famous Harry Houdini. If you've ever been to an old cemetery, you might have noticed that some of the tombstones are strange shapes or decorated with odd symbols, like lambs or tree trunks. All of these shapes have meanings and can tell you things about the person/people buried there, if you know how to read them. If you're not easily alarmed or grossed out, you could look up Victorian post-mortem photography. There's far more of it on the Internet than I'd ever want to see, but the fact that it exists at all is testimony to the weird site of human history and human preoccupation with the sides of life and death that are difficult for the human mind to grasp.
Respectful Remembrance
There is a somber side to Halloween that is also traditional. Remember that, historically, this holiday has included an element of remembrance for the dead that still remains with us. During the year since the last Halloween, we have lived through troubled times, and we have lost people in our communities. People are gone who were with us last Halloween, and it's fine to acknowledge that. Do things that are fun and enjoyable during the holiday to stay cheerful, but don't be afraid to take a moment to light a candle and remember people who are no longer among us. Generations before us have done the same. Part of the comfort in reflecting on the sadder and scarier parts of life and the unknowable future is understanding that this is an important part of being human. These feelings help bind us to previous generations who have done the same and also to other people who are currently struggling with loss, fear, and uncertainty. By ourselves, humans are small and vulnerable to the unpredictable events in life, but we are stronger when we share these things with other humans and remember that we are part of a chain of human beings that stretches far into the past and will extend further into the future. We are far from alone in any of our fears, and there are few things that lurk in the night or in the unknowable future that can stand up to the combined efforts of all of us.
Haman beings do not last forever, but nothing else does either, especially when we do what's necessary to make things better. So, take a moment to reflect on what is past, stay safe, and do your best to enjoy this Halloween for what it is, whatever it is this year. Someday, it will also be a memory, and there's still time to make it something special, even if it isn't quite like other Halloweens you've known before.